Fit & Beauty monodoses pack
325 MDL
The skin becomes soft, velvety, bright and regains its elasticity, the hair radiates beauty, strengthens the nails, which regains its healthy appearance, reduces joint pain and protects the skeletal system.
Pro Nutrition is the source #1 for your health
Free delivery in Chișinău from 900 MDL
Estimated Delivery: Dec 08 – Dec 10
---
Natural beauty truly comes from within. Shiny hair, strong nails and radiant skin are only possible if you have a healthy body. Therefore, maintaining the health of your body is vital for a pleasant appearance. However, along with hydration and a healthy diet, you will get more obvious effects with the help of the right nutritional supplements.
Fit & Beauty ensures both the beautification of the body and its protection. Formulated with collagen, it protects the health of joints, skin, hair, and nails. Fit & Beauty also contains vitamins, minerals, and hyaluronic acid, for a beauty that radiates from within. In addition, it is composed of raspberry flavor to be pleasant to the taste.
What you should know about Fit & Beauty
Collagen, the main ingredient in this product, is the most widespread protein in the body, being a major component of connective tissue in tendons, ligaments, skin and muscles. It has many important functions, including supporting the health of the skin and joints, reducing joint pain and even strengthening the skeletal system.
For this reason, when you consume Fit & Beauty you will have a double benefit: on one hand, you will enjoy an improvement in the appearance of your skin, hair and nails and, on the other hand, you will be able to support proper functioning and health of your body's joints, muscles and skeletal system.
Key benefits
For whom Fit & Beauty is recommended
Due to its diverse properties, Fit & Beauty is suitable for many categories of women, whether we are talking about active or sedentary lifestyle, people who want to improve their physical appearance or who seek to strengthen the health of their joints, muscles and bone system.
What benefits does Fit & Beauty have?
One of the most important benefits of Fit & Beauty is the positive impact it will have on the appearance and health of your skin, hair and nails, which will look and feel better, will be healthier and more beautiful. This product will also play an important role in the health of your joints, protecting you from pain and injury both on and off the sports field.
Given that between 1 and 10% of the body's muscle tissue is made up of collagen, Fit & Beauty will also make an important contribution to the proper functioning of the body's muscles, preventing muscle mass loss and boosting your strength levels.
Also, hyaluronic acid, another ingredient in the Fit & Beauty formula, will help moisturize your skin, acting effectively to revitalize and rejuvenate the skin, as well as to fight acne and other skin conditions.
Suggested use
When to use Fit & Beauty
For best results, it is recommended to consume Fit & Beauty twice a day, preferably before meals, for a period of 12 weeks.
How Fit & Beauty is administered
Fit & Beauty is in liquid form, and the recommended dose is 25 ml, which can be consumed by itself or diluted in a glass of water.
Nutritional value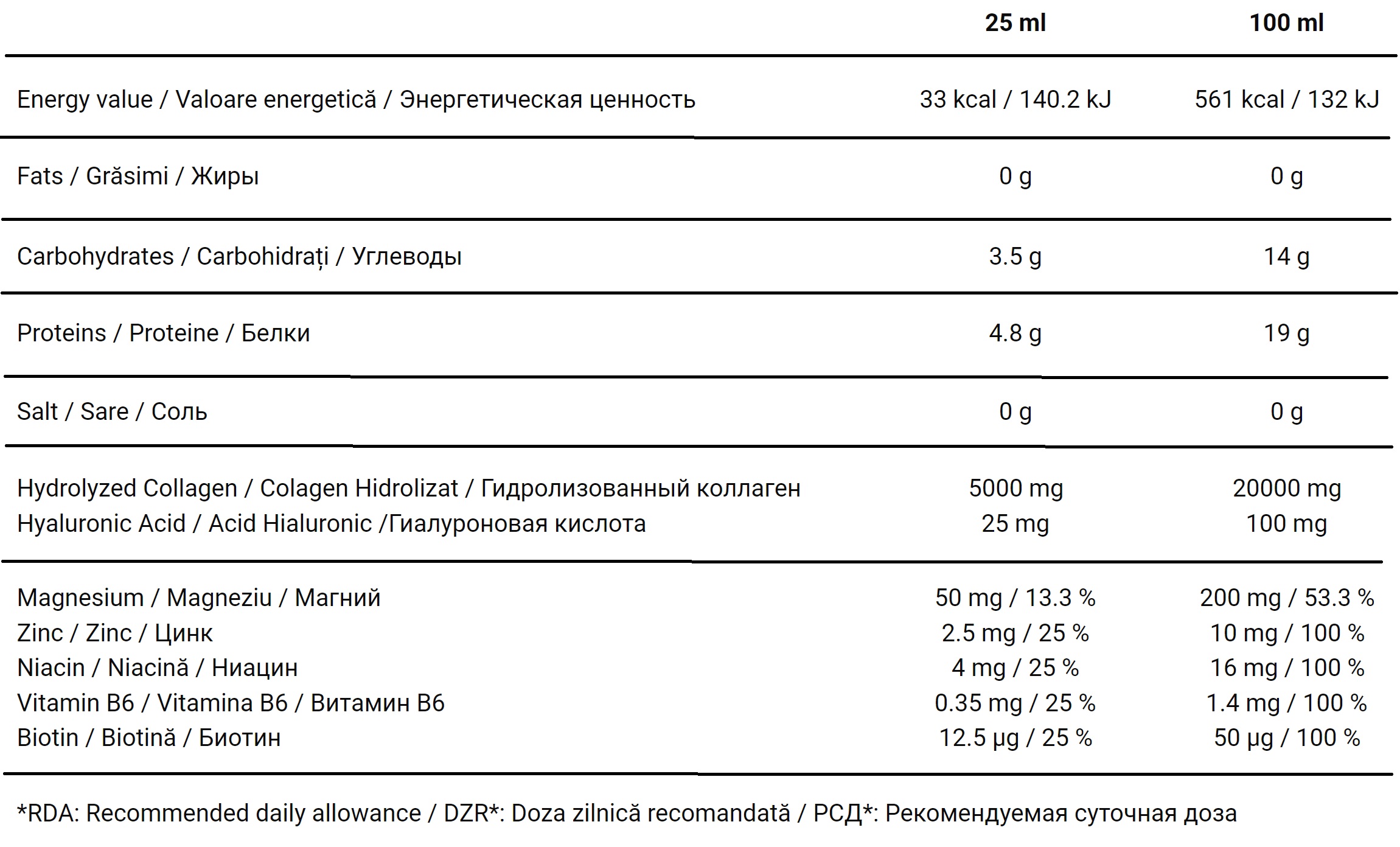 Ingredients
Purified water, hydrolyzed collagen, invert sugar syrup (70% dry matter), magnesium lactate, acidifier (lactic acid), magnesium gluconate, flavor, hyaluronic acid, preservative (potassium sorbate), zinc citrate, niacin (nicotinamide), sweeteners (sucralose, acesulfame potassium), vitamin B6 (pyridoxine hydrochloride), D-biotin.