WPI
1,250 MDL – 2,500 MDL
Contains microfilter protein isolate from whey high protein and without carbohydrates
Pro Nutrition is the source #1 for your health
Free delivery in Chișinău from 900 MDL
Estimated Delivery: Dec 08 – Dec 10
---
WPI is a whey protein supplement, formulated without carbohydrates, which contains an incredible range of essential amino acids with an effective absorption process. This supplement is obtained from an innovative CFM technique, in which ceramic filters are used to isolate whey protein from fat, from the other components: lactose and denatured whey protein. Thus, a pure and natural protein is obtained from whey, without fat.
Whey protein is extremely effective in the process of muscle enlargement, burning fat and restoring muscles after training. In addition, it contains numerous beneficial nutrients for the body.
What you should know about WPI
WPI or Whey Protein Isolate is a pure, whey protein with a high and complete content of essential amino acids. In particular, it is rich in BCAA, the amino acid with the greatest anabolic effect, having an important role in increasing muscle volume. However, the key property of whey protein isolate is at least 90% protein content. That is why WPI is considered to be extremely effective for increasing muscle mass, recovering from workouts and in the process of losing unwanted pounds.
For whom WPI is recommended
Due to its high protein content, WPI is ideal for bodybuilders or anyone who wants to increase and define their muscles, protein supplements being absolutely essential in this process. Also, this supplement is a good choice for any active person who goes to the gym or practices a sport, being extremely beneficial in the process of recovering muscles. Being a protein supplement, WPI is also recommended for people who want to lose weight, this providing a strong feeling of satiety.
Key benefits
First of all, WPI is extremely effective in the process of muscle enlargement, providing proteins and amino acids to the body to build new muscle mass. Additionally, this supplement stimulates the secretion of anabolic hormones. WPI is an ideal supplement for those who want to get rid of unwanted kilograms, the isolate from whey protein having a strong satiety effect.
Along with these effects, WPI has nutrients with beneficial effects on the body, such as lowering cholesterol and tension. In addition, whey protein isolate has beneficial effects on the symptoms of depression and anxiety.
Suggested use
When should you consume WPI
Due to its powerful anabolic effect, WPI contributes to the recovery of muscles after workouts. Thus, in order to give your muscles a boost in the recovery process, consume a shake within an hour after completing the training. For the rest of the day, you can always drink a protein drink containing WPI. Two opportune times of the day to consume additional portions of WPI are in the morning, at breakfast or before training.
How to administer WPI
To achieve the effects of wpi protein supplement, 1-4 servings per day are recommended. One serving of WPI consists of 2 measures of 50 g of protein powder mixed in 300 ml of water, animal or vegetable milk or juice, using a shaker.
Nutritional value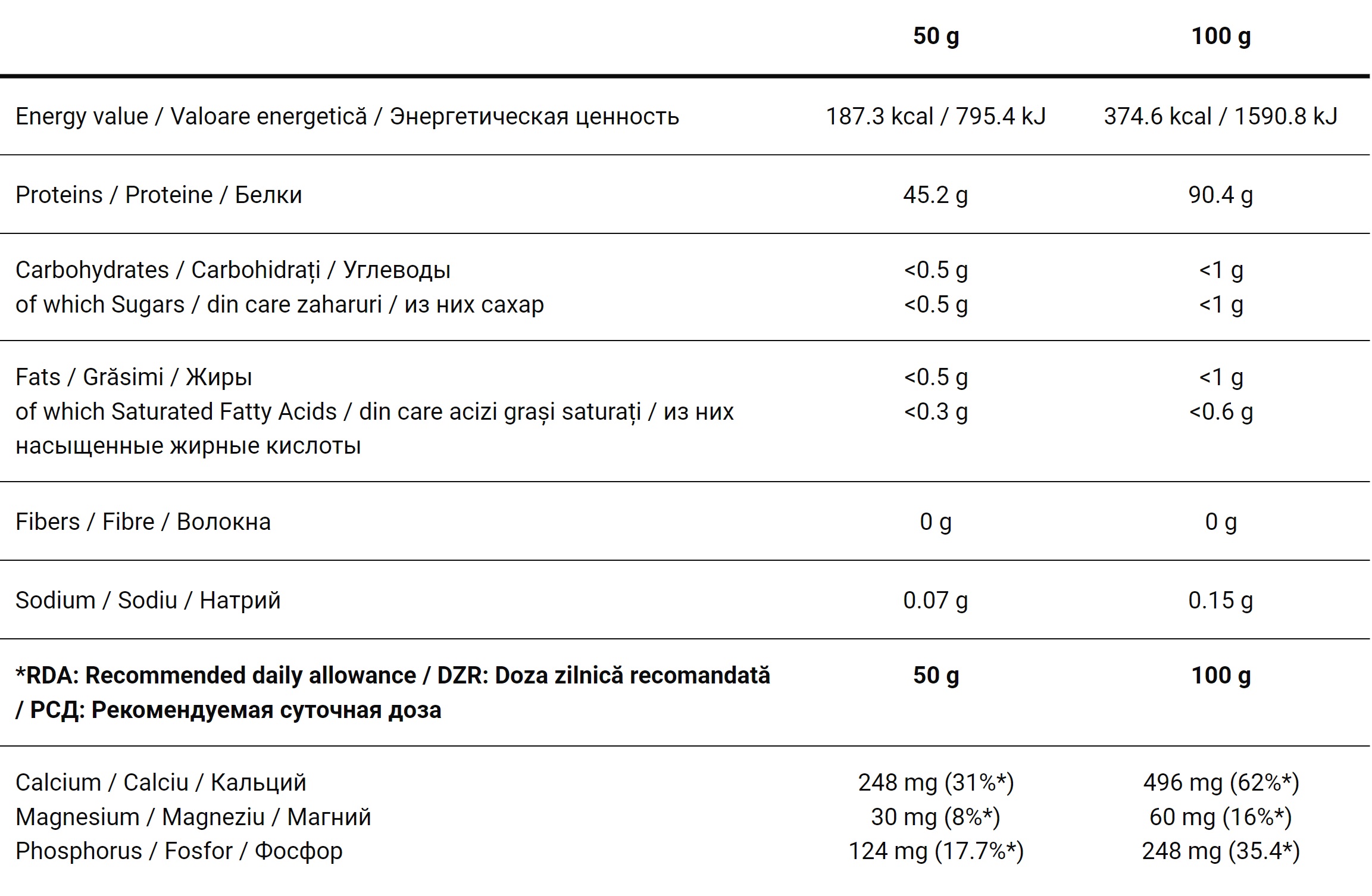 Ingredients
Microfilter protein isolate from whey, (contains emulsifier: soy lecithin) cocoa (for chocolate flavor), flavors, dye: carmine (for strawberry flavor), sweeteners: sucralose and potassium acesulfame, (for flavors: chocolate, vanilla, strawberries).